Online Learning
Trans 101: Transgender People in Everyday Work and Life!
Seven interactive modules covering key concepts related to transgender people and how to improve services for trans communities. (2019)
Acknowledging Gender and Sex
This online course helps clinic staff and providers create a welcoming environment for transgender people. (2017)
The Transgender Training Curriculum for HIV Research developed by the Division of AIDS Cross-Network Transgender Working Group.
This online course includes five training modules that are available as e-learning modules and in-person training tools. Includes an introduction to transgender communities, creating a gender-affirming HIV research environment, HIV in transgender communities, Trauma-informed care for transgender participants in HIV research, and Clinical considerations for transgender participants in HIV research. (2020)
Manuals and Guides
Reports, Recommendations, and Presentations
Health Care Experiences of Patients with Nonbinary Gender Identities. Bindman, J. Presentation. (February 2022)

View Infographic

Recommendations for Inclusive Data Collection of Trans People in HIV Prevention, Care & Services
Sausa, L. A., Sevelius, J., Keatley, J., Iñiguez, J. R., & Reyes, M. (2009). Center of Excellence for Transgender HIV Prevention: University of California, San Francisco.
Assessing Progress, Advancing Excellence: Serving Transgender People in California
Research and program report. (2008).
Fact Sheets and Summaries

Summary of findings from a California school-based survey (Vance et al., 2022)
Preview Fact Sheet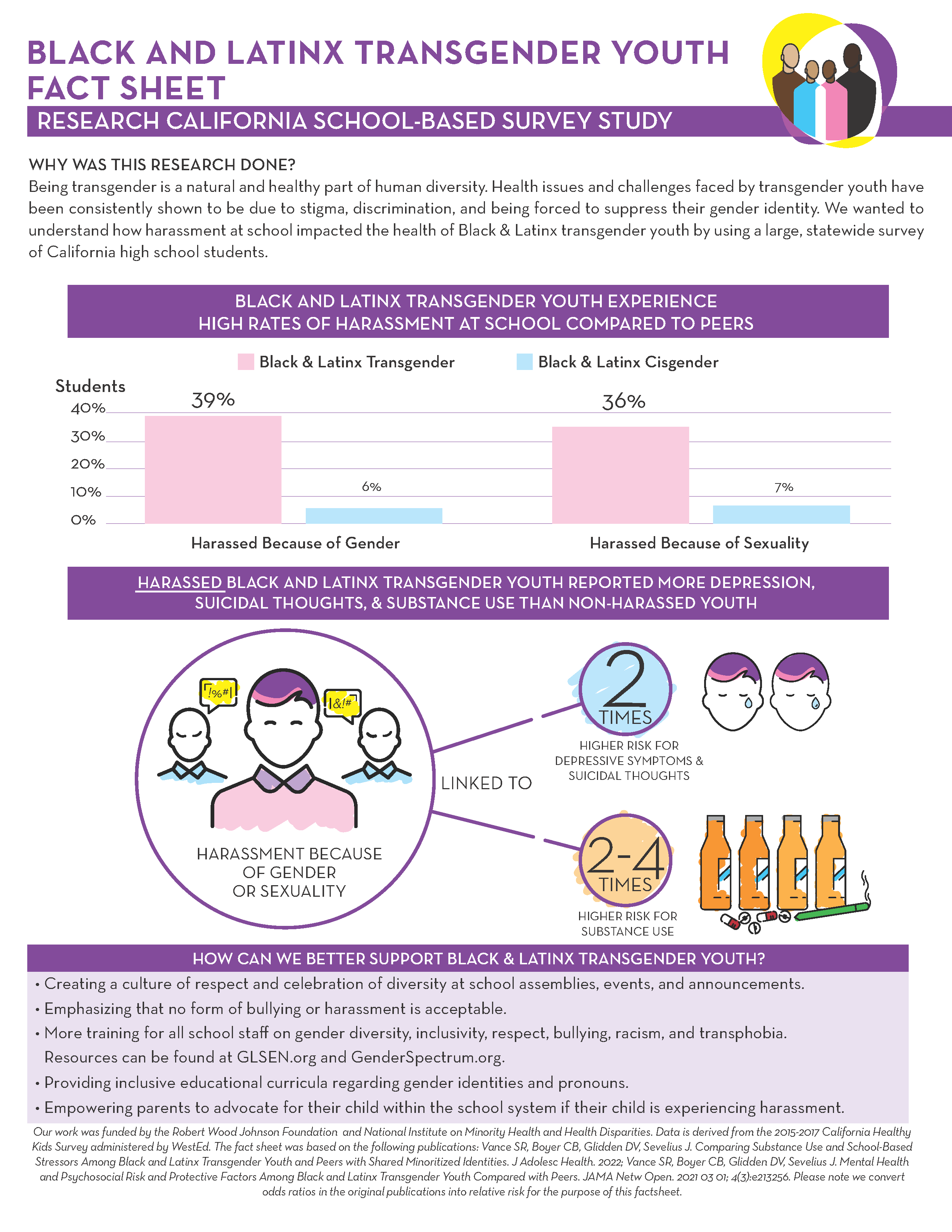 Trans Health Fact Sheets
These brochures were developed with the California Family Health Council, and are available in English and Spanish. (2013)