UCSF PRC COVID-19 Vaccine Uptake Project
About Us
The UCSF Prevention Research Center is a team of investigators focused on improving public health through health promotion and prevention. Beginning in Spring 2021 we were funded to explore vaccine uptake with Black/African American and Latinx youth, parents, and their children in San Francisco and Alameda counties. Our research team conducted interviews and focus groups to inform strategies that could increase trust in COVID vaccines and encourage further uptake in partnership with community-based agencies and our local public health departments.  Our team includes Emily Arnold Ph.D., Lucia Abascal MD, Beth Bourdeau, Ph.D., Chadwick Campbell, Ph.D., MPH Barbara Green-Ajufo DrPH, MPH., John Hamiga, Andres Maiorana MA, and Gustavo Santa Roza Saggese Ph.D. 

​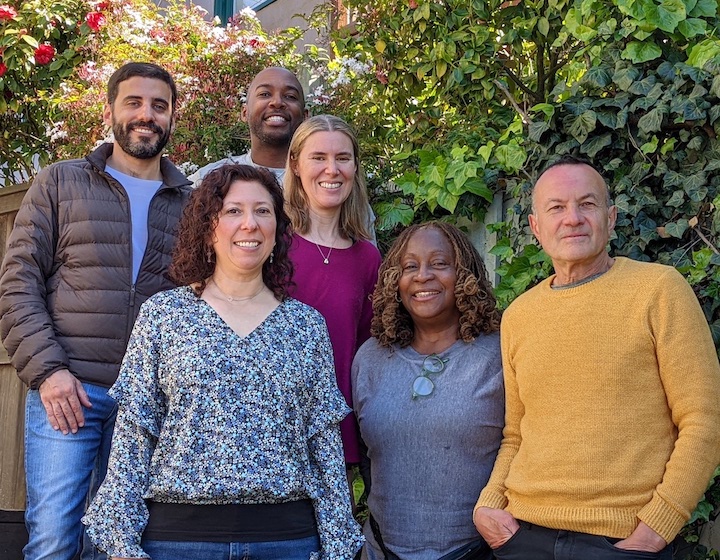 Photo L to R: Gustavo Saggese, Beth Bourdeau, Chadwick Campbell, Emily Arnold, Barbara Green-Ajufo, Andres Maiorana
'For Us By Us'
Through our interviews and focus groups, we discovered insights into what the African American / Black and Latino communities thought about COVID-19 vaccines.  The strategies we recommend are to build partnerships with community members to help identify misinformation and feel empowered to myth bust in order to promote facts related to COVID vaccines.  We also are working directly with youth to increase uptake through including COVID information and training within a larger, more comprehensive health promotion program. 
Our Intervention and Collaborative Efforts
Our team is collaborating with YMCA Urban to increase COVID-19 awareness with social media influencers among young Black / African American youth.  Additionally, we've been engaging with Mujeres Unidas y Activas (MUA) a Latina immigrant empowerment organization by holding social media COVID-19 town-halls and Q&A sessions
For Parents - COVID-19 FAQs
Why should I get my child vaccinated for COVID-19?
Why are boosters important?
Does the COVID-19 vaccine affect puberty of future fertility?
Does the COVID vaccines affect fertility?

Meet Vira, a chatbot that answers questions about COVID-19. Click here.  via John Hopkins Bloomberg School of Public Health.
Para Padres - Preguntas Frecuentes Sobre COVID-19
Las 5 cosas principales que los padres quieren saber sobre la vacuna contra COVID-19 para niños 5-11
¿Por qué son importantes los refuerzos?
¿La vacuna COVID-19 afecta la pubertad de la fertilidad futura?
¿Las vacunas contra el COVID afectan la fertilidad?
For Community Based Organizations
Para Organizaciones Comunitarias

Umoja Health (Oakland CA) COVID-19 testing.  Offers weekly popup sites and volunteer opportunities. COVID-19 Testing.

Salud de Umjoa: prueba de COVID-19 (Oakland). Ofrece sitios emergentes semanales y oportunidades de voluntariado.

PODCAST. Both Sides of the Conversation featuring Dr. Kim Rhodes, UCSF.  Website.

PÓDCAST. Ambos lados de la conversación con la Dra. Kim Rhodes, UCSF. 

Bayview Hunters Point Community Advocates (San Francisco CA)  Website
 
Defensores de la comunidad de Bayview Hunters Point. 

Bayview Senior Services. (San Francisco CA) Website.

Servicio para personas mayores de Bayview
Bayview Hunters Point 3rd Street Youth Center & Clinic (San Francisco CA) Website.
Clinica y Centro Juvenil Bayview Hunters Point 3rd Street
Bayview Child Health Center (San Francisco CA) Website.
Centro de salud infantil de Bayview

Rafiki Coalition (San Francisco CA) Website.

Coalición Rafiki

YMCA CHAMPS (San Francisco CA). Urban Services Community Health Ambassador Program.  Website. 
 

CAMPEONES YMCA. Programa de Embajadores de Salud Comunitaria de Servicios Urbanos.

MUA Mujeres Unidas y Activas (San Francisco CA). Website.
 
MUA Mujeres Unidas y Activas

La Clinica (East Bay CA). Website.

La Clinica

La Familia (Hayward CA). Website.

La Familia

Street Level Health Project (Oakland CA). Website.

Street Level Health Project
COVID.GOV -  Find COVID-19 guidance for your community. Masks, Treatment, Vaccine and Testing information.  Website.
COVID.GOV - Encuentre orientacion sobre el COVID-19 para su comunidad. Informacion sobre mascaras, tratamientos, vacunas y pruebas.

Alameda County Health Care Services Agency Public Health Department. Sign up for a vaccine, vaccine locations, in-home vaccinations, and more.  Click here.

Departamento de Salud Pública de la Agencia de Servicios de Atención Médica del Condado de Alameda. Regístrese para una vacuna, ubicaciones de vacunas, vacunas en el hogar y más. Haga clic aquí.

San Francisco Department of Health includes COVID-19 information, public health guidance, and more.  Make an appointment to get your COVID-19 vaccine or booster. Click here.

El Departamento de Salud de San Francisco incluye información sobre el COVID-19, orientación sobre salud pública y más. Haga una cita para recibir su vacuna o refuerzo COVID-19. Haga clic aquí.

The Latino Community Foundation. Communities deserve equitable access to the COVID-19 vaccine along with factual and culturally relevant information.  The following curriculum, publications, webinars, and other resources are provided to address COVID-19 in our communities.

The Latino Community Foundation offers social media toolkits with sample social media language, graphics, and posters in Español and English.  Click here.

La Fundación de la Comunidad Latina. Las comunidades merecen acceso equitativo a la vacuna contra el  COVID-19 así como información real y culturalmente relevante. El siguiente plan de estudios, publicaciones, seminarios web y otros recursos podrán ayudar a abordar el COVID-19 en nuestras comunidades.

La Fundación de la Comunidad Latina ofrece kits de herramientas de medios sociales con ejemplos de lenguaje, gráficos y carteles para redes sociales en español e inglés. Haga clic aquí.

Ad Council Toolkit for Hispanic Communities. There is no need to re-invent the wheel. Use Ad Council graphics, videos, customizable assets to build vaccine confidence within the Hispanic community.  Spanish and English.  Click here.

 

Kit de herramientas del Ad Council para comunidades hispanas. No hay necesidad de reinventar la rueda. Utilice gráficos, videos y otros recursos personalizables de Ad Council para generar confianza en las vacunas dentro de la comunidad hispana. Español e inglés.  Haga clic aquí.